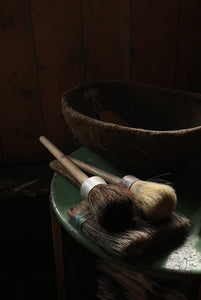 Vintage Paint Brushes
These Vintage Paint brushes have a story to tell.  Great for styling a sideboard or fireplace, their tactile nature scream out to be picked up.  

Round Brush -  
Height: 41cm / 47cm 
Brush width: 4.5cm / 5cm (base of brush)
Flat brush -
Height: 37.5cm
Brush width: 18cm
Condition: All brushes are believed to be in functioning order, no major breakage or loss of bristles.
*We have a stock of these brushes which we will replenish as we love them so!  If you would like a particular colour or style please get in touch at point of ordering.