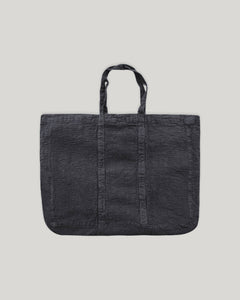 Maison Masarin Raw Linen Yogi Bag
The raw linen yogi bag is made of naturally embossed French linen. Its texture obtained by simple washing gives it both the softness and the roughness, specific to this fiber. Its edges are slightly fringed to appreciate the natural aspect of this material.
Our raw linen has the particularity of being untreated with a soft, soft touch. Linen is an eco-friendly material, because its entire fiber is used, 99% of it is irrigated by rainwater and its age on French soil allows it to be grown without GMOs. It is also one of the natural thermoregulating materials: it is warm in winter and cool in summer.
The yogi bag can be used as a shopping bag, as a sports/yoga bag. It contains a small internal pocket and two different handle sizes.
Machine washable at 30°C Dryer allowed for extra softness. Do not iron to maintain its texture.
Measurements: 70 x 52 cm.