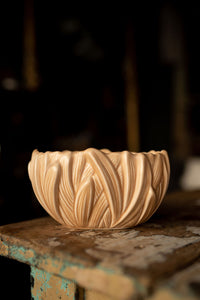 Pink Sylvac Hyacinth Mantle Vase 
This Sylvac Hyacinth Vase is a dusky pink blush colour and would sit just as easily as part of a tablescape as on a mantle.  
Paul Malget Floral Designer at La Famille says 'Pastels are always a good base for showing off bolder colours from the same palette for others. (The clue really is in the title on this one!) This vase would be striking filled with a smaller selection of stems with heavy scent. Think Muscari for its punchy high notes and crocus, paired up with hyacinths, either 'orange lion' or 'Anna Liza''
Width: 18cm
Height: 19cm
Condition:  Very good, no damage.