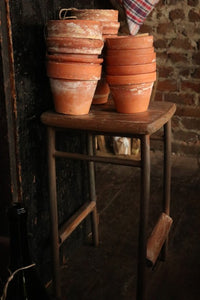 Vintage Terracotta Pot - 12cm 
Is it possible to own too much well worn terracotta? We think not...  These 'tom pots' do not have a significant age to them but they are beautifully worn.
*Size and shape vary slightly from pot to pot. 

Height: 12cm
Top diameter: 16.5cm
Bottom diameter: 11.5cm
Condition: Overall good vintage condition, no major cracks along the pots. Some minor imperfections and ageing which is to be celebrated.