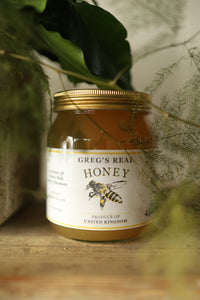 Greg's Real Honey
Local up and coming Beekeeper Greg is passionate about he does and has won many awards including Best Newcomer at the Kent Show.  
His 'raw honey' is completely natural and spun out of honeycomb.  For this batch of honey, the bees have been foraging on the pollen of clover, dandelion and blackberry.  
Delicious!
All pure honey will crystallise. To liquify crystallized honey, heat a pan of water to 60 degrees.  Remove from heat, and place container in pan until liquified.  
Do not refrigerate honey.