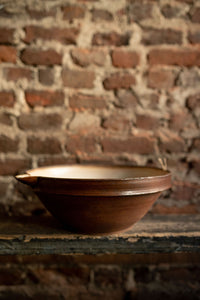 Brown Medium Baking Bowl with Spout

A fantastic baking bowl, it has 3 different colours of glazing on the interior, exterior and rim. All of which follow a similar earthy palette. As well as a spout along the exterior of the rim. 
Top diameter: 37.5cm
Bottom diameter: 18cm
Height: 14.5cm
Spout length: 4.5cm
Spout width: 5cm
Condition: Good converge condition, it has some marks and chips along the rim as well as some on the spout. The exterior and interior have a few marks from general use, but nothing to hinder any use.