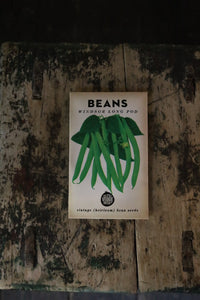 Little Veggie Patch Heirloom Seeds - Bean 'Windsor Long Pod'
This popular bush bean has 15-20cm long green, flat pods and attractive, long, deep red seeds. Pick young pods regularly so they are stringless and to promote further flowering and production. 
When to Plant - sow under cover from February to April
Soil: Beans fix your soil with nitrogen that they naturally produce, so a moderately fertile, free-draining soil is required. Ensuring pH is within the recommended range. Soil pH Level 6.5-7.0
Position: Full sun, preferably in an area of your patch that allows them to be trained vertically and therefore conserve space.