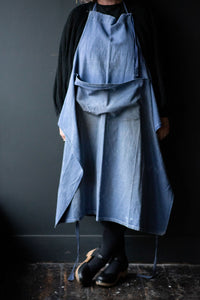 Vintage Workwear Apron
This well worn Vintage Workwear Fabric Apron is so soft, even the ties have a gentle feel to them.  It features a large useful pocket. 
Dimensions: 
Length (not inc. ties) 99.5cm 
Width of the bottom 93cm
Length of ties from end to end including the apron 129cm
Condition:  The fabric has a few catches here and there and some appropriate staining, nothing significant.