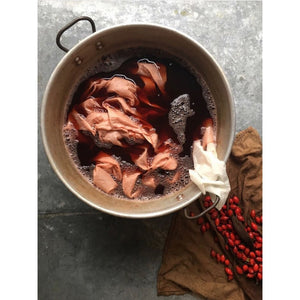 We've been planning to host a workshop with The Natural Dyeworks since the Summer and due to Covid we felt that it was more appropriate to put it on hold until after Christmas.  
How about a voucher for one of your loved ones instead, this is what they'd get upto...
Natural dyeing is a process that uses botanical ingredients to dye cloth in ways that have been used for thousands of years. It is chemical free, 100% natural, slow and sustainable.
Dyeing with plants encourages the dyer to build a strong connection with their natural surroundings and experience the seasons in a new light.
Plant materials suitable for dyeing can be sourced through foraging (Nuts, leaves, berries), growing (Flowers & herbs) as well as everyday plant based food waste.
This introductory workshop is suitable for beginners and you will learn the skills needed to continue your practice at home.
Ros will show you simple steps for how to prepare different fabrics through scouring and mordanting and share techniques to avoid disappointing results. We will make a dye bath from seasonal ingredients and we will then dye a range of swatches after which you will have the opportunity to dye several pure silk ribbons, a linen tea towel or a cotton tote in the colour of your choice.
We will then discuss some of the different natural ingredients that can be used to create a wide palette of colours and tips for what to look out for throughout the seasons.
All materials will be provided and there will be a worksheet for you to keep as well as all samples made during the workshop. Please bring an apron or wear old clothes that you wouldn't mind getting marked.
Workshop date T.B.C.