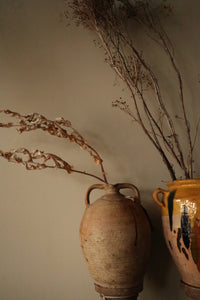 Terracotta Urn
This interesting piece of pottery features a central spout as well as two handles sprouting from this. Towards the base of the urn is a ringed, ripple effect that fades as the clay continues. 
Height: 34cm
Bottom diameter: 16cm
Top diameter: 7cm
Condition: Overall good vintage condition, the exterior has markings and obvious signs of being an antique product.