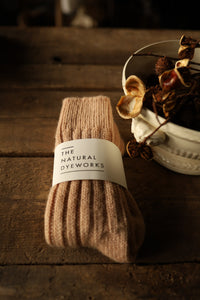 NDW Wool Socks Shell 
These hand dyed unbleached, natural, organic wool socks are hand dyed at the Natural Dyeworks using plant extracts.  

Knitted in Ireland using 100% organic wool from lowland grazing Irish Jacob sheep.
Hand wash in warm water with just a little eco detergent. Allow to dry naturally, away from heat.

S UK size 4-8 EUR size 37-41
L UK size 8-11 EUR 41-43
*These socks are made in very small batches so there may be variation in colour within the shade.  The colourway 'Shell' ranges from pale to rich.  A small amount of elastane is used around the cuff.