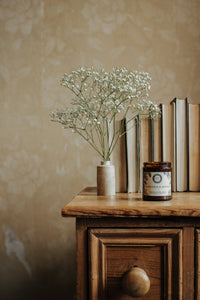 Mandarin & Neroli
Calm, uplift and warming Infused with 6 pure essential oils, a classic in the range that can be burned all year round.
The perfect refreshing citrus candle to uplift and cheer, whilst balanced by gentle sweet florals.
A scent for all rooms and all occasions, the citrus notes are replaced by the deeper base notes from the florals and woods as the candle burns for longer.  
Neroli: also known as orange blossom neroli is balancing & revitalising
Mandarin: revitalising, eases anxiety and is a known mood lifter
Bergamot: calming, mood lifter
Sweet Orange: warming, eases nervous tension
Grapefruit: stress reliever
Juniper: good for mental fatigue