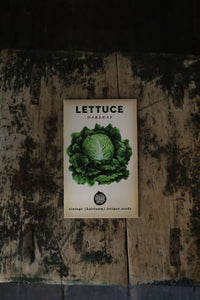 Little Veggie Patch Heirloom Seeds "Boston"
A heading type of lettuce - although best to be picked leaf by leaf - that is large, tender and good for salads. Not bitter, it will please fussy salad eaters, and is not fussy itself with growing requirements. It copes well in many soil types and in partially shaded spaces. Its main requirement is water.
When to Plant: Late Spring to Autumn in the UK.
Soil Prepare with compost and well-rotted manure and allow the soil to settle for 1 -2 weeks before planting. Fresh manure has a tendency to burn younger lettuce seedlings, so corporating a green manure in your soil as part of the preparation is also ideal. Soil pH Level 6.5 -7.5
Position Full sun, but will tolerate some shade
How to Plant You can sow the seeds directly into the veggie patch or in punnets, to transplant once germinated. Sow on the surface of the bed, Just make sure that the birds don't peck at the seeds.