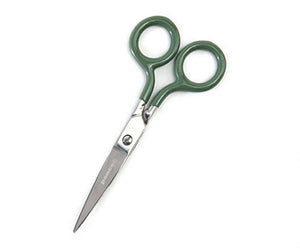 Hightide Penco Stainless Steel Scissors (S)
These retro inspired stainless steel scissors are made by Hightide in Japan.  These lovely scissors are available in 2 colours; white and green.  The PVC coated handles are for ease of use during longer periods of cutting and they are light in the hand and compact enough to carry.  
They come neatly stored away in a convenient PVC case with a little popper to keep them secured.  The Hightide logo is engraved on one side of the blade.  Finger loops are made so the scissors feel snug to hold and give you a precise means of cutting small and precise details.  
Scissors are approx. 13cm in length and 5cm at their widest point across the finger loops when closed.