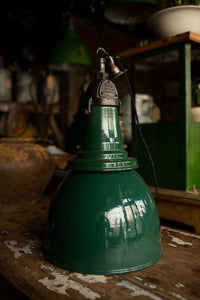 Simplex Neo-Displex Green Enamel Pendant 
These stunning industrial pendant lights are in a classic green.  They feature an industrial style mount with a hook atop and have been fully refurbished and PAT tested. 
*Price is per pendant.
Diameter: 37cm
Height: 64cm
Height of hook & support: 19cm
Green
Black braid
Condition: Good vintage condition with little marks on the exterior, and some minor rusting on the interior. One light does have some more 'extreme' rusting however this is still minor and does not affect the lights functions.