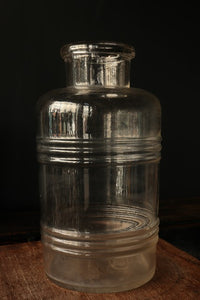 Glass vase
Stunning, large glass vase. On the bottom is embossed 6L, so presumably the capacity this vase can hold. As well as this it has 2 sets of 3 lines that run along the sides of the vase at both the top and base. 
Height:  34.5cm
Top diameter: 11cm
Bottom diameter: 17cm
Condition: Good vintage condition, the interior has some marks presumably from water in previous uses. Some minor bubbling in the glass as well as some imperfections in the surface of the glass.