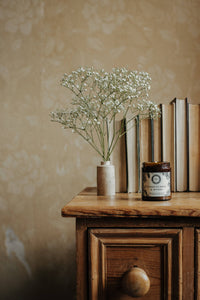 Scott's Apothecary Candle Frankincense & Myrrh
Rich, balancing and warming Infused with 7 pure essential oils, this candle is reminiscent of smoky wood fires, incense and tobacco.
We use deep woody resins to create a healing and calming scent filled with rich base notes, so the scent lingers long after the candle has been blown out.
A warming, calming scent, fantastic for meditation or for those shorter autumn and winter evenings.
Frankincense: empowering, calming 
Myrrh: healing, emotional insight Cedarwood: calming and grounding
Scotch pine: soothing and healing
Cypress: cleansing Patchouli: balancing
Lavender: calming, anti stress
180ml candle - burn time 35-40 hours
500ml candle - burn time 80 hours
Please burn down for at least 1 hour the first time you light this candle, until the melt pool reaches the edge of your glass container.
*Vegan friendly, free from paraffin, parabens and phthalates, hand-poured into recyclable amber glass, and use no synthetic fragrance oils.