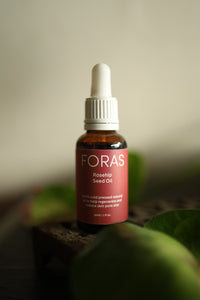 Foras Rosehip Seed Oil
100% cold-pressed natural oil to help regenerate and reduce skin pore size.
An intense oil for treating skin conditions such as acne, pimples and boils. Helps with the repair of damaged skin tissue that has been scalded, burnt, or overexposed to the elements. Contains one of the highest levels of Omega 3 among vegetable oils which facilitates the regeneration of the cellular membrane to normalise skin with large pores.
Apply a few drops daily to skin or add to your favourite cream for a boost. If irritation occurs cease use. Use only as directed on unbroken skin. Patch testing prior to use is advised. Keep out of reach of children.
30ml / 1 fl oz.