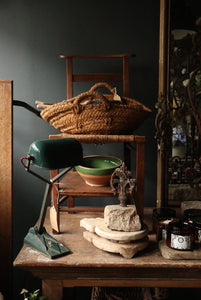 Fleur-de-lis Doorstop
These cast iron fleur-de-lis reclaimed pieces would make beautiful decorative doorstops.  Their stone bases give them weight and stability. 
We have two in stock, dimensions are below as they may differ slightly.
Height: 25cm
Base width: 16cm
Base depth: 16.5cm
Height: 26cm
Base width: 13.5cm
Base depth: 14cm
Condition: Overall good vintage condition, some obvious wear on the base mount and some rusting on the decorative piece.