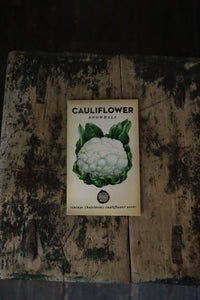 Little Veggie Patch Heirloom Seeds 'Snowball'
An old variety and home grower's favourite with white/ivory heads that grow to a good size. 
When to Plant:  January to February under glass, March to May outdoors, September to October in cold frames over winter.  
Soil:  Prepare soil with a green manure, and incorporate fresh manure and compost into the mix to improve its water-holding ability. Allow the soil to settle down for a couple of weeks before planting.   Soil pH Level 6.5 - 7.5
Position Full sun, in a well-drained soil. Avoid planting where brassica crops have been grown in the last couple of seasons.
How to Plant You can sow these directly, or preferable to sow in punnets and then transplant.