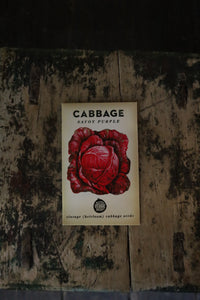 Little Veggie Patch 'Savoy Purple'
An early savoy cabbage with green inner heads, wrapped by deep purple leaves. A sweet, nutrient-packed vegetable, that has always been a 'superfood' and may well have invented the idea. Stores well.
When to Plant:  Late Spring to early Summer UK
Soil Prepare your garden bed with green manure at the end of the previous season. Cut down your summer beans and turn them through the soil a couple of weeks before planting.  Add well-rotted manure and compost to increase the amount of organic matter in the soil.
Soil pH Level 6.5–7.5 Position Sunny, well-drained spot in the patch. Avoid planting brassicas in the same place each year.