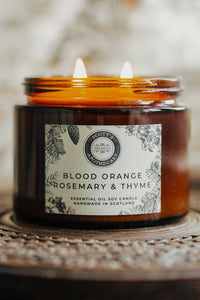 Blood Orange, Rosemary & Thyme
Cleansing, calming and uplifting, wiith seven pure essential oils, this scent blend combines many of the botanicals found in gin.
A combination of cleansing and uplifting citruses from Blood Orange and Bergamot and enriched by the calming, but also cleansing benefits packed into the Mediterranean herbs.
The scent in this candle starts out cleaner and zestier when unlit but the richer woody scents come through more when it burns making this a favourite in our household.
Contains: Blood orange: revitalising, eases anxiety and is a known mood lifter
Bay: grounding and good for calming the mind and concentration
Juniper berry: fresh & spicy, cleansing
Cedarwood: calming and grounding
Rosemary: concentration & memory support, antiviral Basil: grounding, this oil is good for anti-anxiety and stress relief
Cedarwood: calming and grounding Bergamot: calming and a lovely mood lifter
180ml candle - burn time 35-40 hours
500ml candle - burn time 80 hours
Please burn down for at least 1 hour the first time you light this candle, until the melt pool reaches the edge of your glass container.
*Vegan friendly, free from paraffin, parabens and phthalates, hand-poured into recyclable amber glass, and use no synthetic fragrance oils.