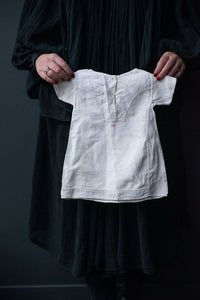 Antique Linen Dolls Dress - Mae
This pretty dolls dress or baby's smock features an embroidered 'M' on the front, presumably the initial of the previous owner. It has a single button located at the top of the neck. 
Width at waist: 25cm
Length from neckline to hem: 36cm
Condition:  These darling antique dolls dresses come in very good condition for their age, they might have the odd age spot, but overall they are very charming and ready to be worn.