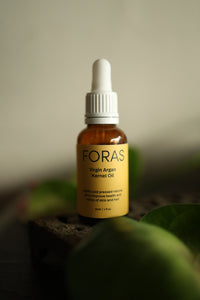 Foras Virgin Argan Kernel Oil
100% cold-pressed natural oil to improve the health and shine of skin and hair.
Argan Oil contains a high content of vitamins, carotene, phytosterols and omega 6. It stimulates and protects, helping to retain soft supple, elastic skin. Provides intense conditioning to dry and dehydrated skin and hair. Helps to restructure the epidermis. It has strengthening and shine effects on nails and hair.
Apply a few drops daily to the skin or throughout the hair to help health and shine. If irritation occurs cease use. Use only as directed on unbroken skin. Patch testing prior to use is advised. Keep out of reach of children.
30ml / 1 fl oz.