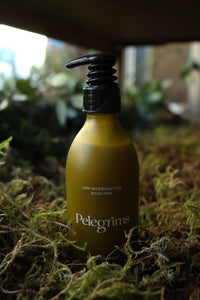 Pelegrims Exfoliating Hand Cleanser 270 ml
A gently exfoliating hand cleanser with our English Ortega Grape Extract that helps to repair and hydrate the skin.

Crushed walnut shell buffs away dead skin cells whilst our English Ortega Grape Vine Extract repairs and hydrates the skin to leave hands soft and healed. Subtle notes of Rose, Tomato and Labdanum.

Daily ritual:
Pump a small amount of cleanser onto wet hands and massage together to create a lather. Continue to massage between fingers and knuckles whilst rinsing with hot water. Pat dry with a cotton towel. Apply your favourite hand cream after use to lock in moisture.
Ingredients:
Aqua (Water), Coco-glucoside, Squalane, Sodium surfactin, Capryl/caprylyl glucoside, Glycerin, Vitis Vinifera (Ortega Grape) Skin and Seed Extract, Glycol distearate, Cocamidropyl betaine, Glycerin (Veg), Glyceryl oleate, Juglans Regia (Walnut) Shell Powder, Phenoxyethanol , Xanthan gum , Phenyl Ethyl Alcohol, Vitis Vinifera (Fermented Grape Residue) Extract, Labdanum Oil, PARFUM, Titanium Dioxide, Sodium benzoate, Potassium sorbate

Size: 270ml