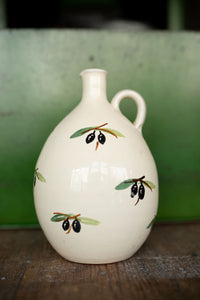 Italian Glazed Terracotta Jug or Carafe
This glazed terracotta Olive Jug or Carafe was made by Nicola Fasano in Italy.  The pretty design has been hand-painted and would look just as good on a table used for it's original purpose or used as a vase.  
Height 21cm
Diameter at widest point approx 15cm
Condition: this carafe has been used to hold oil so the inside still has some oil residue which would surely lessen if used for another purpose.